The Guide to the Well-Dressed Bed: The Basics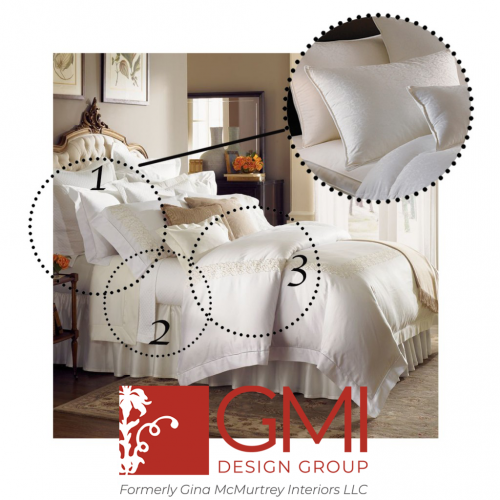 The anatomy of a luxury bed has evolved over the past several years.  Once a show of excess, a well-dressed bed would include a plethora of pillows, layers upon layers of sheeting, coverlets and duvets, and enough down to make a flock of geese jealous.  As the trend towards simplicity continues, we are seeing less pillows and elaborate adornments and are focusing on the basics of a comfortable, yet stylish bed.
Layering is still used for modern or contemporary beds, but the lines are crisper, the top-of-the-bed designs and patterns are simpler, and certain components are eliminated altogether.
 Traditional rooms, however, still utilize the full gamut of boudoir fashion, so we will explore the basics of bedding with that in mind.  Each area will be covered in more depth in subsequent articles.
1) The Foundations
As any woman knows, the secret to looking and feeling amazing in a sexy new dress hinges on the undergarments she choses.  The same thing applies to the bed…what you put beneath the sheets is as important as what you see.
The well-dressed bed includes:
• Plush mattress pad or featherbed
• Down or down-alternative comforter
• Euro pillows
• Standard pillows
• Sleeping pillows
The contemporary room may opt to skip the standard pillows for decorative shams and only display Euro shams and sleeping pillows.  Or, choose a down-filled mattress pad over a featherbed to ensure a crisp look.
2) High Quality Sheeting
Understanding the differences of the different types of sheeting can be confusing.  Terms such as percale and sateen describe how the sheeting is woven, and can define the sheeting's hand, or how it feels to the touch.   The most common fiber used is cotton, but there are differences even in that category.  Alternative fibers, such as modal, bamboo are also alternatives that are gaining popularity due to their supple and silky softness.
More on sheeting and how to choose what's best for you will be covered in a following article.
3) Cohesive Design and Aesthetics
Dressing the bed in layers creates that soft, comfortable, inviting look that dares you to abandon your day and jump on in.
The well-dressed bed, from back to front, features:
• Euro shams
• Standard shams
• Sleeping pillows in coordinating pillow cases
• Lightweight coverlet
• Removable duvet cover
• Dust ruffle or bed skirt
• Accent pillows
Again, a simpler design will forego the number of pillows or even variety in patterns used.  A complex and beautiful traditional bed ensemble can feature at least five different patterns and fabric textures in the top-of-bed alone!  Add features such as ruffles, trim, sequins or fur and the bed is truly an elaborate and exquisite focal point to the boudoir.
Coming up, we will discuss what comprises the different aspects of the well-dressed bed, which will help you make an informed decision on how you can have the most beautiful bed and best night's sleep you've ever had.
•
Need help designing your dream bedroom?

Contact us today to schedule an in-home consultation!
 •
•