SlumberShade Roller Shades Offer Energy Saving & Major League Style
There are many wonderful things about the Fall.  The weather starts to change from hot and muggy to cool and breezy.  The days get shorter and the sun sits lower in the sky.  Plus, according to my husband, these are the "golden days" of sports where multiple options are available at the same time—Major League Baseball, NFL football, college football, and soon the NBA.  With all of these autumnal happenings, proper window treatments can offer protection from the low sun's glare and cold drafts around windows, yet still give your home a personal touch with many custom design options.
I'm so excited to be able to offer one particular product, the "SlumberShade" by Comfortex.  This amazing roller shade has so many benefits!  Like most black-out shades, the fabric is bound to a backing that blocks out nearly all outdoor light.  However, where standard black-out shades allow light to emit from the sides and bottom of the window frame, the SlumberShade has fabric wrapped tracks in which the shade slides, eliminating light leaks from the sides. In addition, a fuzzy seal along the top rail and bottom edge of the shade block out light for windows that are slightly off square.
ENERGY EFFICIENT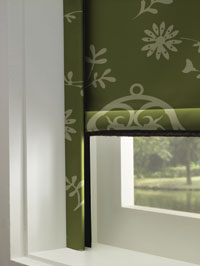 The blackout fabric, the PVC-wrapped side tracks and the fuzzy seals all offer incredible energy efficiency.  In fact, independent testing has shown that a SlumberShade roller shade reduces energy loss by 30% over a standard blackout roller shade!
CUSTOMIZABLE TO YOUR DECOR — INCLUDING SPORTS TEAMS!
Are you a sports fan?  Do you have a space that shows off your love of the St. Louis Cardinals or KU?   You can customize your SlumberShades to match your room's color scheme and decor style by using their "design your own shade" option.  Choose from the many different Persona Elements designs—from floral to abstract to juvenile prints.  Plus, SlumberShade is registered with MLB® and many collegiate teams so you can incorporate your alma matar's logo or outfit a man cave with a complete, light-blocking window treatment featuring his favorite team.  You can even create your own personal shade with a custom graphic of your choosing.  The options are limitless.
SUPERIOR LIGHT CONTROL
It's been proven that people get the best night's sleep in a very dark room.  This may not be possible to those who have late work shifts and are required to sleep during daylight hours.  The SlumberShade is the official window shade for The National Sleep Foundation as it provides the most light-blocking features and creates a most suitable sleeping environment.
SlumberShade is perfect for day sleepers, theater or media rooms, and children's room as they offer child safe cordless options.
•
Of course, you don't have to install a SlumberShade to get a custom window shade.  All of the mentioned options are available for light-filtering roller shades, as well as Roman Shades!
Plus, your favorite Disney® characters—such as Wreck-It Ralph, Ariel, Winnie-the-Pooh, and of course, Mickey—are now available* to add that special touch to children's rooms, nurseries, and play spaces.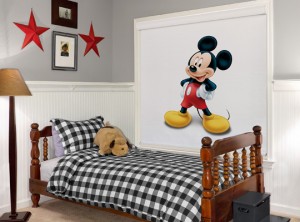 *Disney® characters are not available for SlumberShade at this time
•
Want more information on SlumberShades or other custom window coverings featuring your favorite Major League Baseball team or Disney® character?

Gina McMurtrey Interiors LLC is proud to provide Comfortex products to our clients.

Contact us today for a quote or to schedule an in-home consultation.
All photographs on this post are via Comfortex