Mixing Patterns: Monochromatic Contemporary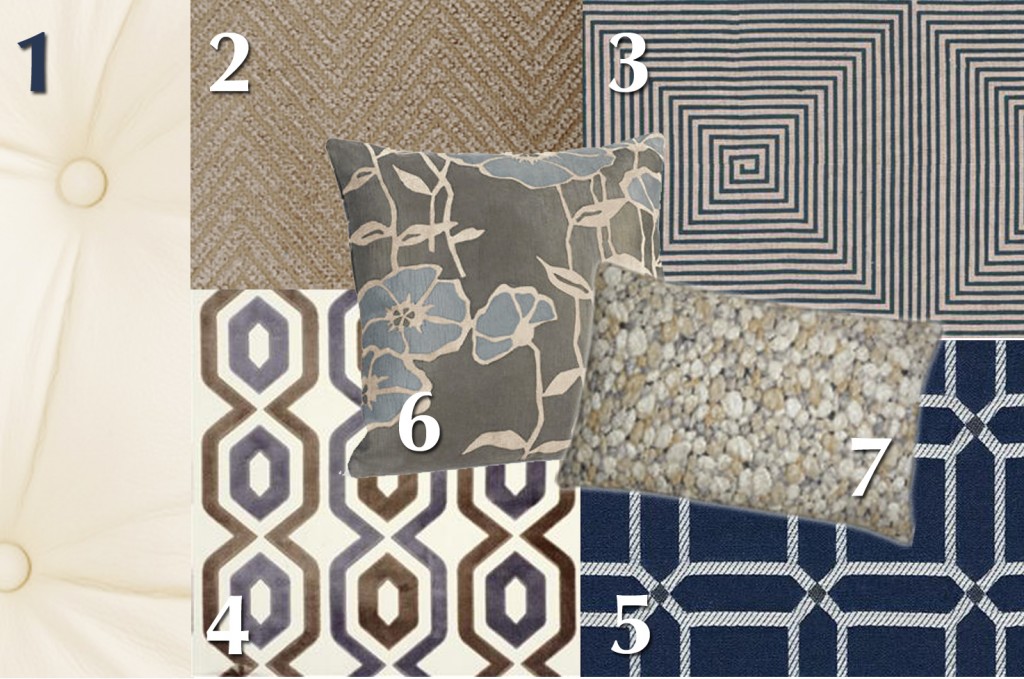 Variety is the spice of life.  Taking a room from OK to "WOW!" means integrating different textures, patterns, and colors.  You can achieve this with any style preference, but undoubtedly the idea of mixing several different patterns in a room can make a homeowner nervous.  The safest inclination is to keep the majority of the room solid and only bring in pattern as accents, such as pillows or an area rug.  While this approach will keep a room flexible, you can be missing a great opportunity to create a dynamic space.
This time we'll be discussing a monochromatic, contemporary style.  The key ingredient when mixing patterns in a minimal color palette is to play with the scale of the patterns.  When you choose two patterns of a similar scale–whether large or small–they will compete with each other.  Placing a large scale pattern next to a small scale pattern will give each their own attention and they will compliment each other.
Another aspect to consider is color.  Matchy-matchy is just plain boring.  Explore the gradients of the colors you're using, and bump them up a notch or two to keep a consistent color range.  Think of highlights, lowlights, and midtones.  A popular way to accent a color is bring in areas of a highly saturated color next to grayed down tones.
And remember, texture can be interpreted as a pattern.  Mohair, linen, leather, and tweed all carry their own subtle pattern.
In the example above, a herringbone print chenille (2) would make a great sofa with an accent chair in the tufted white leather (1).  An upholstered ottoman in a box print (3) provides a nice transition between the two.  Draperies in a bold pattern (4) and floor cushions in a deep geometric (5) will add depth.  Fun pillows (6) & (7) incorporate whimsy and personality.  A high-pile area rug (not shown) would anchor the entire space.