"I Am My Client" — Follow Fernanda through her process of remodeling her new home!
Being an interior designer I get asked this question all the time: "Sooo, how are you able to look at a space and see your vision, see it's potential?"

The answer to this question is not an easy one. Sometimes the vision is clear, I walk into a space and I can easily see what it can be. Other times there is more of a conscious brainstorming where I need to sit down and think. But one thing I can say for sure: there is always a careful processed behind every space that leads to the beautiful end result of a room.

Starting today, I will give you a peek into this process. Because guess what? My husband and I bought a new home! This means… I am my newest client!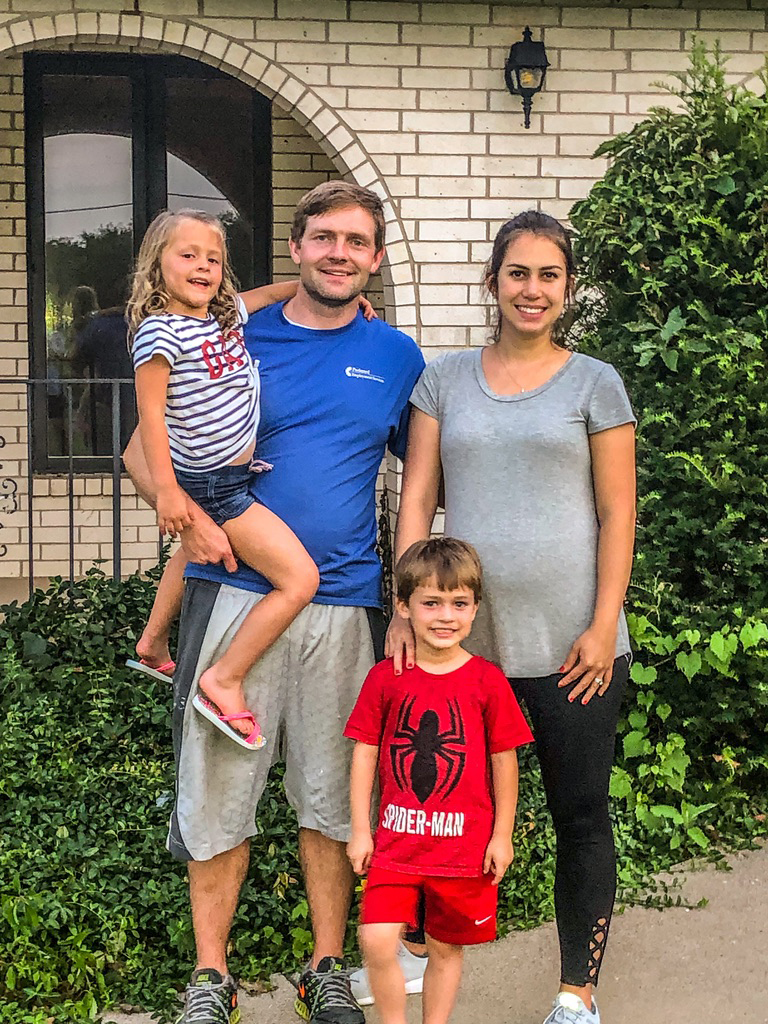 So, let me give you all the information our new abode. It's a 5 bedroom, 5 bathroom, 3 levels (basement, main level, second floor), 3600 square feet home that sits in beautiful 5 acres of land. Sounds dreamy, right?! Well, there is one problem… it's very outdated. Luckily, that's not a big problem to me, I can fix that. Oh wait, but I forgot to mention: I am pregnant and have a 2 month deadline for the completion of the project. This remodel NEEDS to be done before the baby arrives! But since I'm not all the way crazy, we will remodel only the main level of the home, and some of the bedrooms before the baby arrives. The rest we will resume remodeling after we settle into our bigger family.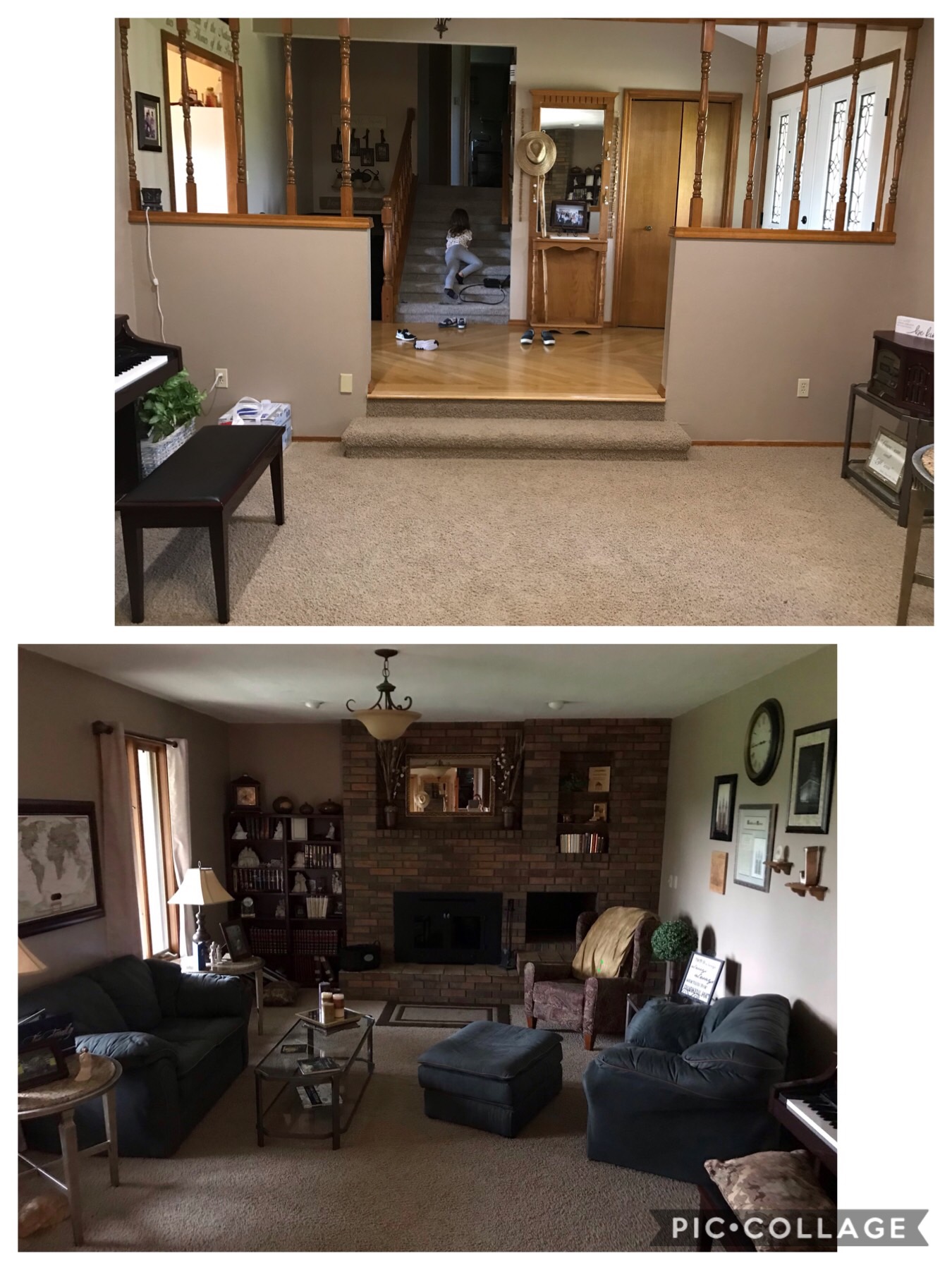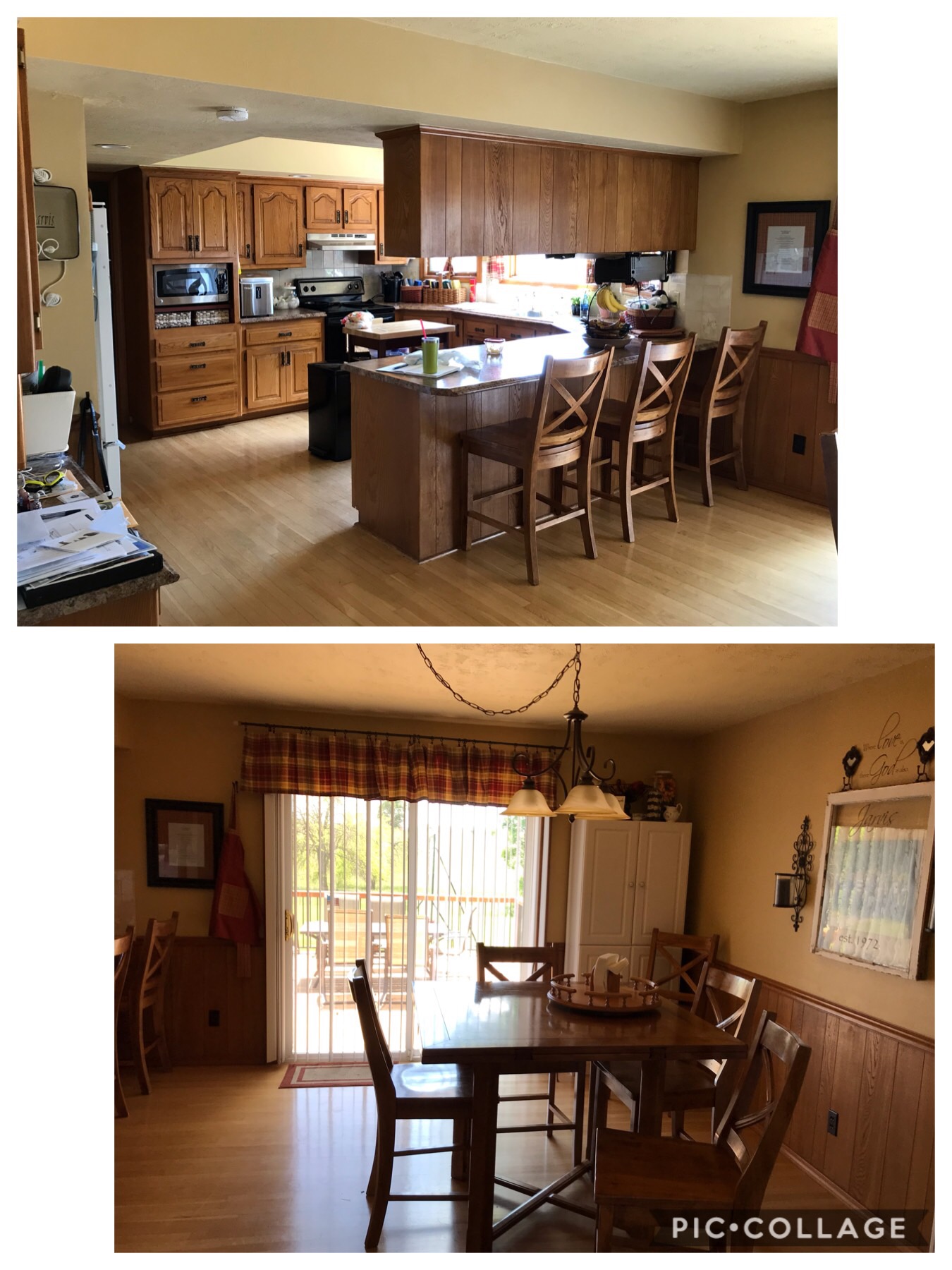 Inspiration:
For any project, I need an inspiration piece. I need something that will be the starting point for my design. The inspiration piece for this home is a very unusual one. It's a skull. Say that again? A skull?…YES, a SKULL! I found this skull over a year ago in one of my favorite home decor stores, as soon as I saw it I was in love! I thought to myself "My next house will be inspired by this piece!". I love this skull because it's rock and roll, glittery, out of the box and it has just enough pops of color. It's the perfect balance of feminine and masculine. This will be my goal, to translate that into a cohesive design that is family friendly. I say family friendly because I forgot to mention, besides this baby that I'm expecting, I also have twins—a 4 year old boy & girl.

PLANNING PHASE:
Now that I have my inspiration, let's design!
For any good design we need to first address the problems of the space and find solutions for them. The biggest problems of the main level of this home is that the spaces are broken up, look and feel small. That is due to the the living room feeling a little dungeon like because of the sunk-in floor, massive brick fireplace and lack of natural light in the living room. Since I grew up in Brazil, a very sunny and tropical country, sunlight is at my top 3 priority list. The solution? We will remove the wall between the kitchen and living room, and we will add skylights to the ceiling. By doing this the light will just flow freely throughout the entire room.
To address the dungeon like feeling we will raise the sunk-in floor from the living room, making the whole space the same level. We will raise the ceiling, creating a cathedral ceiling that will elongate the space vertically. Also, we will demo the pony wall and spindles that divide the living room and entry way. At last, we will demo part of the brick fireplace, extend the fireplace vertically all the way to the ceiling and we will reface it too.
Since the wall between the kitchen and the living room will be gone, we will have one very large main level that comprises of entryway, living room, kitchen and dining room. This takes us to another huge change, the KITCHEN! The kitchen will get a complete overhaul. We will demo EVERYTHING and start fresh, including the drop down soffit that was super popular in the 80's (when the house was built). To finish off, all new flooring will cover the entirety of the space, making it all flow together.
Great! Now I have a plan! Don't things just start feeling better after you have a plan?! I personally love a plan of action. Time to ACT!
First things first, I always start with taking measurements and then drawing a floor plan.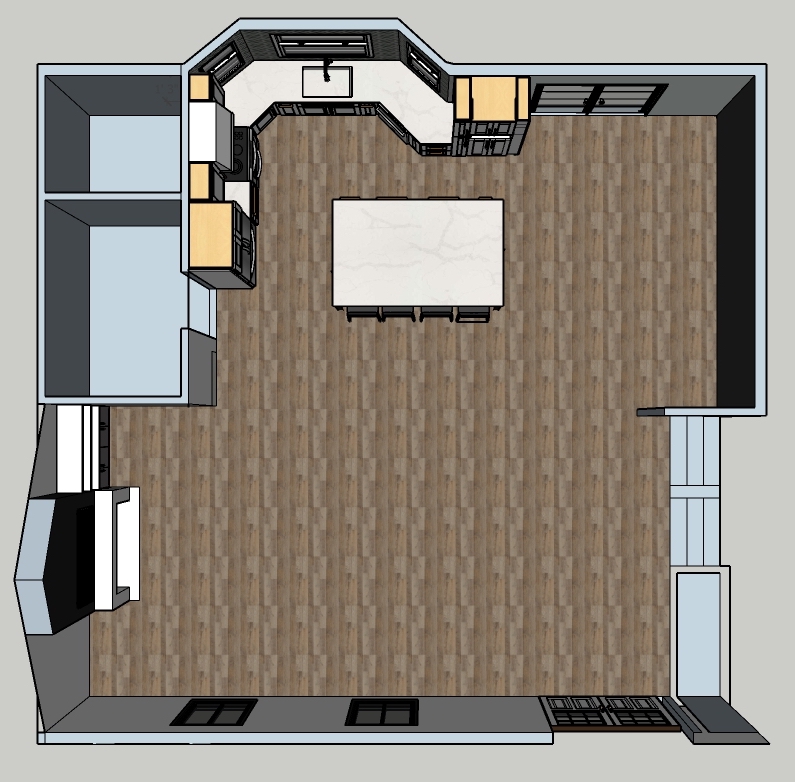 All of those ideas were easy for me to visualize, but to make things easier for my husband and contractors, I made 3D renderings to show exactly how the space would look like. That's actually most of my clients problem too, the visualization of all the changes and my ideas. 3D renderings are pivotal to bring ideas to life and make clients confident in the changes, finishes and ideas that arise during the process. So here is it, the first draft of my construction plans: my floor plans and 3D renderings.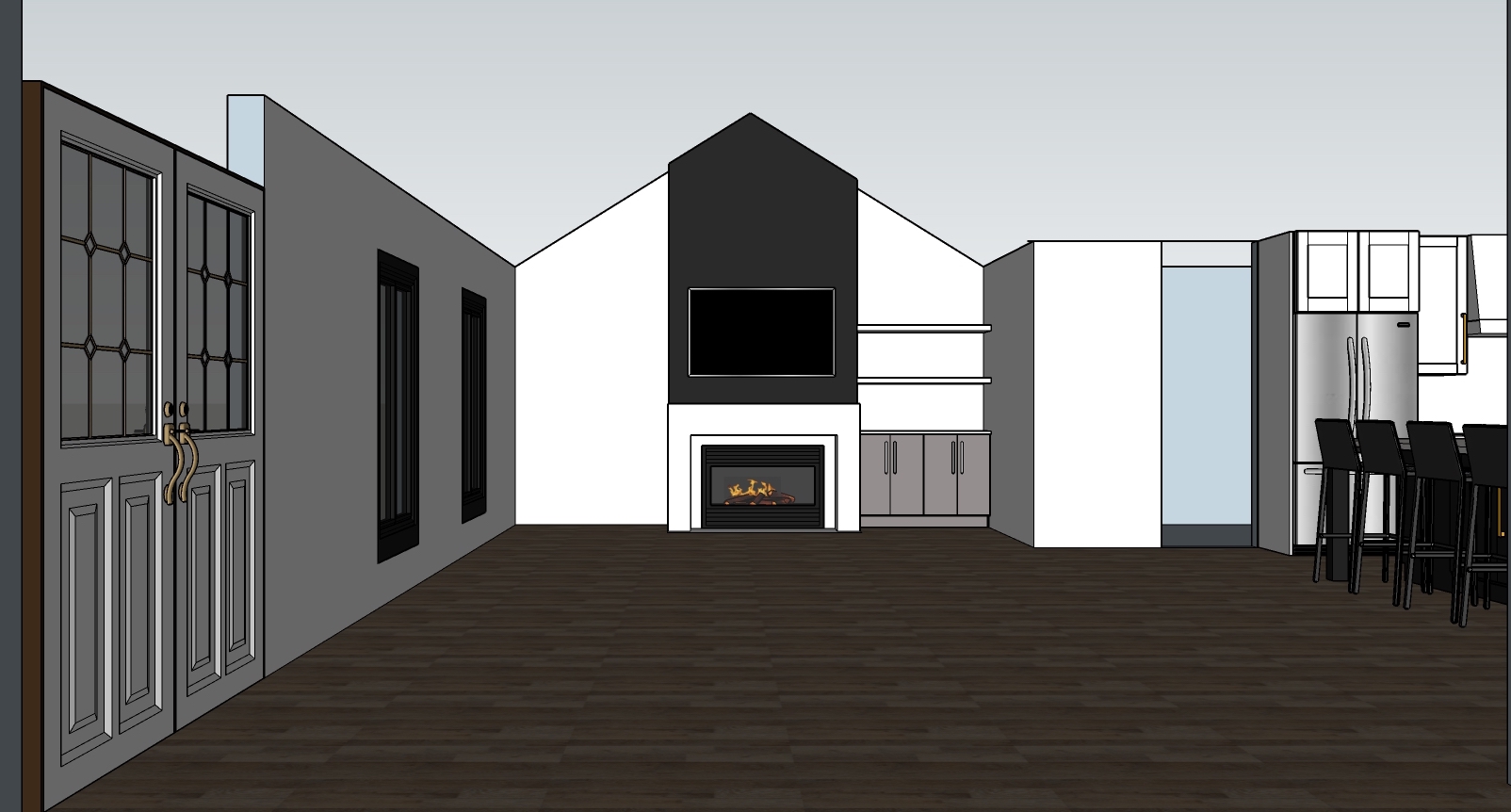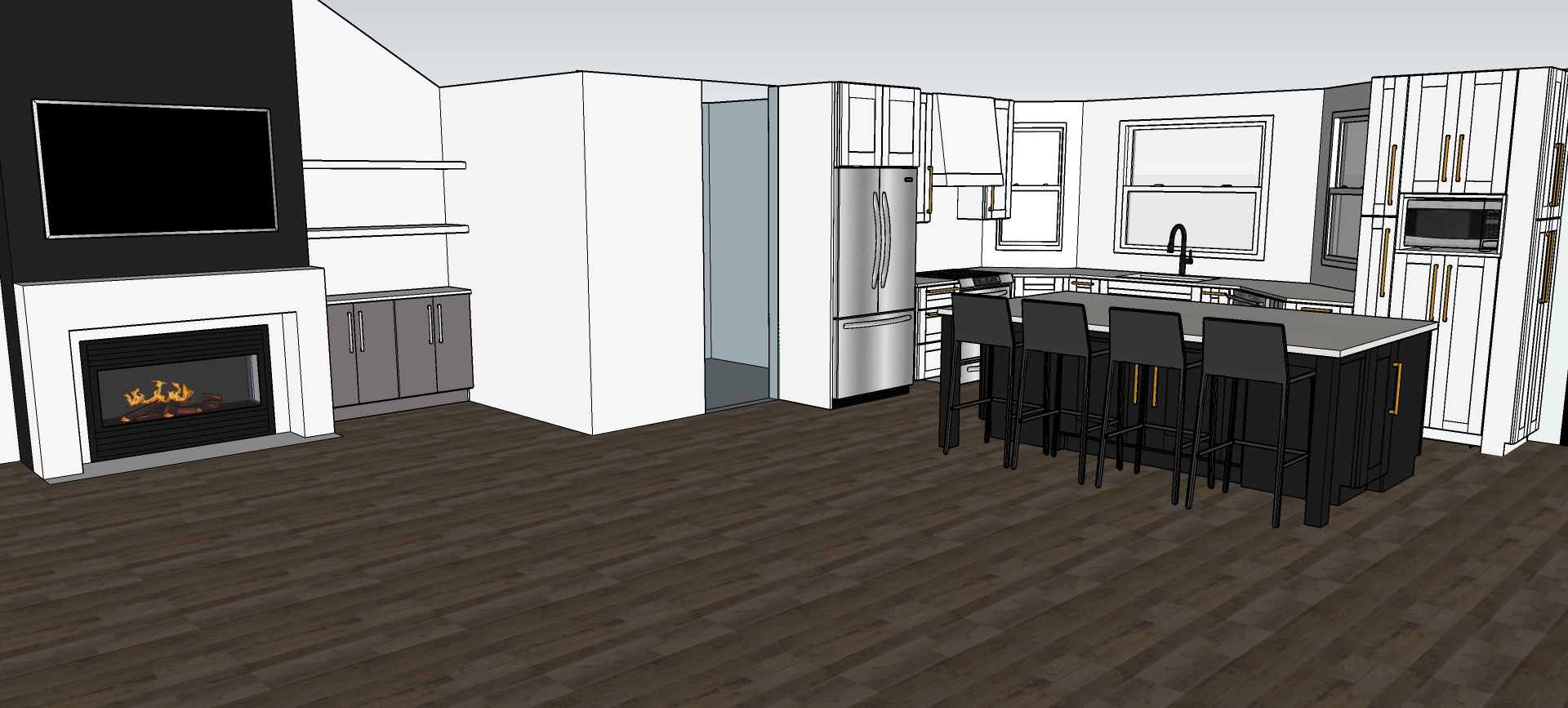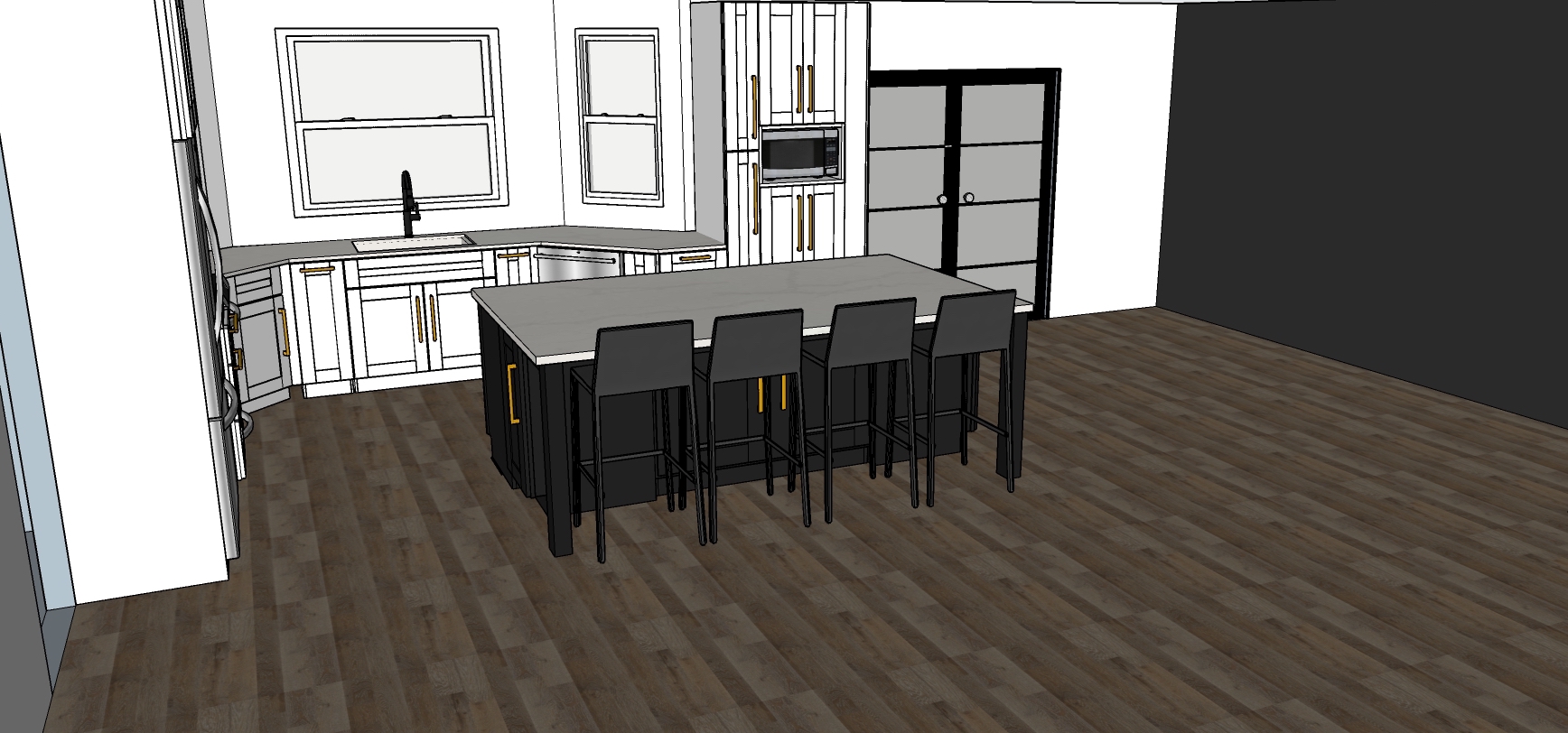 Feww! Do you think that is enough? For now it is! I will keep you posted on our progress.