Fabric Feature: New Embroidery from Duralee
I am a fabric fanatic!  I can just roam fabric stores for hours–touching them, dreaming of uses, gathering them up in my hands to see how they drape…  It's probably a border-line illness.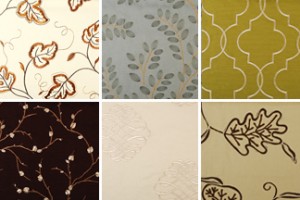 This week, I was able to see several of the new Duralee books.  The Mateo line drew me in since I'm such a sucker for embroideries and crewels.
These fabrics have a terrific hand since they're made of mostly cotton, and would drape beautifully.  From geometrics to traditional patterns to natural inspiration…the texture and colors are rich, warm, and great for any design style.
Dream a little about how embroidered fabrics can be a part of your interiors, whether it be window treatments, bedding or upholstery.  If you're on a budget and full-fledged draperies are not an option, even throw pillows can add at lot of interest to your room with a lot less yardage.
If you would like a sample and a price of any of the fabrics shown for your project, contact me by e-mail or at (417) 343-6058.  I also have a great workroom to complete your projects if necessary.