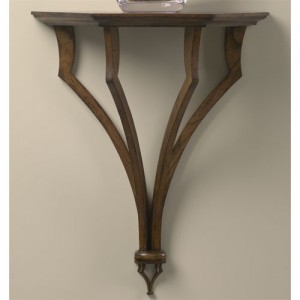 UNEXPECTED USES FOR ORDINARY PRODUCTS
Wall Shelf as a Side Table
Running low on space, but need a side table next to your favorite chair?  Do you have a platform bed and every side table you find is too tall?  Apartment & loft dwellers often find that they need to be creative in choosing accent furniture.
Use a wall-mounted shelf as a side table in your living room to hold a mug of coffee and your reading glasses.  Next to the bed, a decorative bracket for loose shelving components, topped with a 1/2 round paintable shelf, is a great option for a low bedside table.  Pair this with a plug-in style sconce and you've achieved the same functionality of a full table and lamp.
The wood Gothic Wall Shelf featured above is 18″L x 9.25″W x 21.75″H…just enough space for a small book and a water tumbler.  If you are interested in this particular shelf, contact me for pricing and ordering information.  In the near future, look for our upcoming "Featured Product Store" where this and other highlighted products will be sold online through Gina McMurtrey Interiors.