Dining Room Seating Basics
Holidays often mean dinner parties, family gatherings, and friends around the table. How do you know how many people that you can seat around a table? Here are some rules of thumb for a comfortable dining experience:
ROUND & OVAL TABLES
Round tables offer the most efficient use of space and are the preferred shape for conversation since there are no awkward angles in either line of sight or seating, with oval being the next best option. Pedestal tables offer the best leg room, but can feel unstable unless you go with a high quality manufacturer.
Some disadvantages to round tables are that it's difficult to find a round table that will expand (and stay round) without spending a fortune…although they are available and beautiful! Most round tables will expand to a large oval, so make sure your room will accommodate this shape when expanded.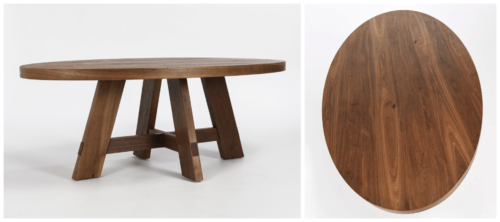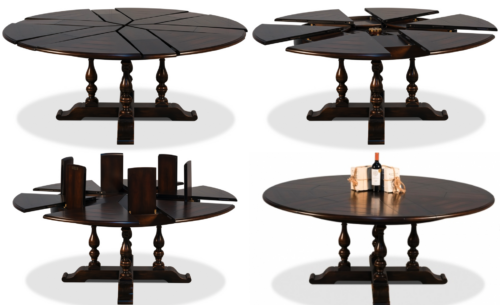 RECTANGULAR & SQUARE TABLES
Easily the most common dining room table, rectangular tables offer a traditional dining experience and can be found in a huge variety of sizes—from small ones that will fit in a kitchen nook to oversized grand estate tables to seat 20. These are easy to expand and leg room is not compromised with corner legs. One disadvantage to a rectangular or square table is when it's put in a small or square-ish room, traffic flow around the table can become tight once it's expanded. Measure your room for the table at its fullest length and allow at least 3′ around the table for your guests to move in and out. Also, squeezing in the extra guest means a sharp corner in the stomach! We've all been there… and have wished there was a kid's table to go to instead.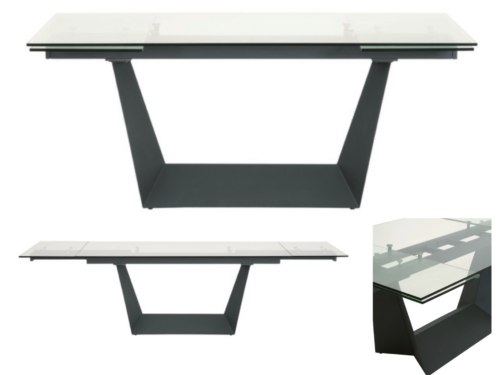 SEAT SPACING PER PERSON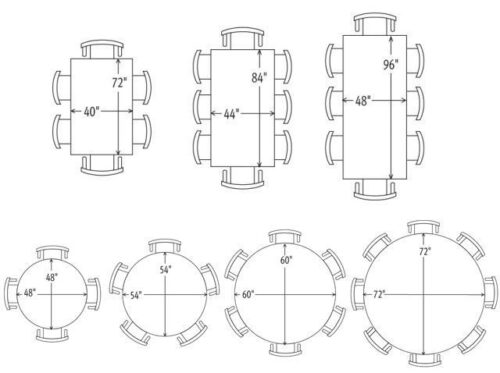 Above is a basic chart for how many people you can fit comfortably around rectangular and round tables. And, obviously, you can squeeze one or two more people in, especially kids.
For the most comfortable seating, allow about 24″W for each guests and about 18″ clearance behind each chair.
All furniture featured is available to-the-trade only through GMI Design Group. Contact us if you would like more information and pricing on these tables or coordinating pieces.