Caring for Your Handmade Rug
Chances are good, you or someone you know has had a rug ruined by someone who claimed to know how to clean oriental or area rugs.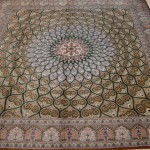 A handmade rug is crafted by a weaver……. one small knot at a time. It is a piece of art that may have taken months or even years to weave.
Purchasing a crafted rug is an investment and, if treated properly, can last generations. The best option, of course, is to have it professionally cleaned by a company that has years of experience, education, quality systems, and of course options for recovery if something does happen to go wrong.
According to Tuft Aide/Buddy's Carpet Care, here are some ways you can extend the life of your carpets and rugs before you call a professional.
Tips to Make Your Rug Last Longer

Vacuuming

: Done on a weekly basis, you can reduce the amount of damage caused by dust and grit. Use a vacuum or attachment without the beater bar and vacuum from end to end with the nap lay of the face fibers. (Nap lay is the direction the carpet face fibers naturally lay due to the weaving process.  With hand knotted rugs the nap lay will be with the warp (north or south direction).  With nap lay the carpet looks lighter, against nap lay the carpet looks darker.)

Inspect your rug for insect activity

: Flip over the corners of large rugs. Look for moth or carpet beetle larva, it resembles "sticky" white line. The carpet beetle is pin head in size.

Your Rug "First Aide" Kit

(Club Soda & Cotton Towels)




When a spill happens – coffee, soda, wine, or a pet stain, people often grab a cleaner and scrub the area which results in permanent damage. Instead Blot-Rinse-Blot.

Immediately blot the wet area with a white cotton towel, (scrubbing will untwist and break the fibers of wool, silk or cotton).

Look for two things: the spill absorbing into the towel. STOP if the rugs dyes are absorbing into the towel, continuing will cause the area's dye to bleed together, possibly devaluing the rug.

If there is no dye bleed, place a folded towel both over and under the area, creating a sandwich. Stand on the area or use a heavy book. This helps the moisture absorb from both sides hopefully displacing the spill.