THE GUIDE TO THE WELL-DRESSED BED: Bedding design—From simple to elegant, the décor of the boudoir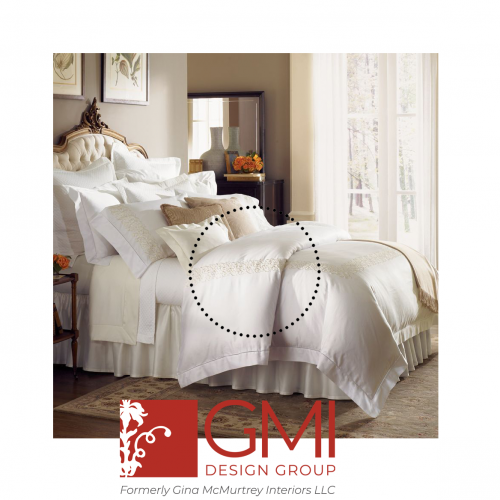 Bedroom décor has indeed evolved. Once characterized by a simple bedspread that covered everything in one giant overlay, to copious amounts of pillows, multiple layers, and ornamentation, the trend has been for a more simple, streamlined environment. At the base level, a bed needs to conform to the temperature needs of the person or persons that will be sleeping in it. One person is not a problem, but once you add another person with another heat/cold preference, the challenge is to make both comfortable.
LAYERS
As in clothing, by incorporating layers you can add or set aside additional warmth according to your needs. Regardless of your design style preference, the well-dressed bed should include the following layers at a minimum:
Sheeting
Coverlet or Blanket
Comforter with Duvet, or Bedspread
Large Pillows in Shams
Sleeping Pillows
At least one decorative pillow
Dust Skirt (depending on bed type)

TRADITIONAL BEDROOMS
In a traditional bedroom, multiple layers of large pillows give truly luxurious experience. For example, a layer of European (Euro) pillows would be closest to the headboard, topped with two king shams, followed by two king pillows in decorative pillow cases, topped in front by several decorative pillows in various sizes and textures. Also, traditional bedrooms, more specifically, traditionally styled beds, may require a dust ruffle or skirt. Layering skirts—lace over satin; organza over silk; pattern over solid—gives a fuller and richer look to the base of the bed.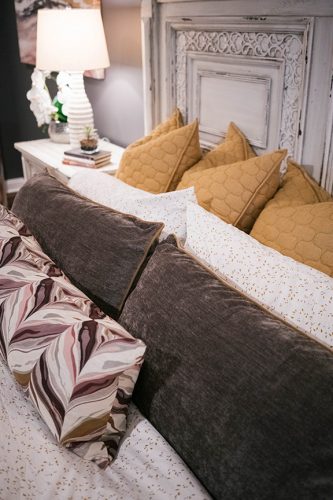 TRANSITIONAL OR CONTEMPORARY BEDROOMS
Current trends are showing that less is more when accessorizing your home, and this is definitely true in the bedroom. Transitional rooms may carry colors and textures that are consistent with a more traditional style, but may have cleaner lines, fewer accessories and less ornamentation. These rooms may or may not require a bed skirt, depending on the height and width of the running boards of the side of the bed. Also, contemporary platform beds simply do not allow a skirt. If a bed skirt is used, typically it is tailored and straight with little detailing other than simple ribboning or details such as buttons, etc.  Layering the transitional or contemporary bed starts with the large shams in the back, sleeping pillows, and at least one decorative pillow. An additional layer with coordinating pillow cases or shams can give extra interest without much fuss. Contemporary beds may also have stacked pillows, or a combination of upright and stacked to create the luxury hotel look.
ARRANGING PILLOWS
Typically the back row of pillows is comprised of European (also called Euro) pillows. These are usually 26"x26" and you will need at least four Euros for a King bed, three for a Queen or Full bed, and two for a Twin bed. Euros can be propped side-to-side, or overlap for a fuller look. Down-filled pillows are preferred as they fluff up and dress out with more flexibility. For the well-dressed bed, pillows in shams should meet in the center of the bed. That means, use king pillows for a King bed, but standard pillows may work fine for a Queen. Decorative pillows look best when there is alternating sizes, shapes and textures.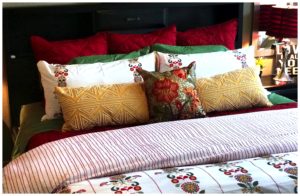 Use the rule of odd numbers (one, three or five pillows). For example, choose a 18"x18" square pillow, a 12"x16" oblong and a small square or bolster in varying textures and patterns for wonderful visual interest.
DUVETS, COVERLETS & BLANKETS
In decades past, beds were covered with bedspreads that went from floor to floor, folding back to cover the sleeping pillows. Taking cues from the Europeans, the well-dressed bed uses down filled comforters that are covered with a duvet (top sheet optional) and during the winter months a coverlet or blanket is added. The coverlet layer can be part of the decorative aspect of the bed, or it may be strictly utilitarian (my definition of blanket.)
The coverlet can be defined as any of the following: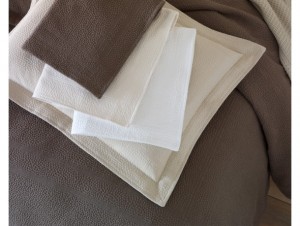 Quilt — a coverlet for a bed, made of two layers of fabric with some soft substance, as wool or down, between them and stitched in patterns or tufted through all thicknesses.
COLOR & DESIGN
This is the area that is completely up to you and your designer. There are an infinite number of selections out there that allow you to make your bed ensemble your own. Bright and bold or simple and neutral, now more than ever the options are available across price ranges and decorating styles.
•
I hope this series has given you the tools you need to begin your bedroom transformation. Don't forget—custom bedding is a great option if ready-made products do not meet your particular needs.
Need help designing your dream bedroom?

Contact us today to schedule an in-home consultation!
•
 •
 •