What's your design style?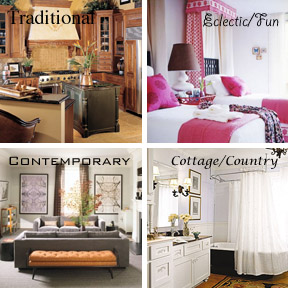 Is Traditional your preference? Do you like the clean lines of Contemporary? Are you Eclectic/Fun in your styling? Do you lean toward Cottage/Country?  Or, are would you classify your style as something different?
As a designer, I have often thought it would be nice to have multiple homes so I could fulfill my mind's vision of multiple design styles…ones that wouldn't necessarily meld together well under one roof.  I guess that's the best part of being an interior designer, though…being able to work within each different realm for my customers.  However, the rooms that appeal most to me personally are the ones that marry several different styles together.   For instance, a contemporary home with a well placed distressed console table or vintage accessories.  Perhaps it's a traditional bedroom with a fun pillow or whimsical lamp.  It's the unexpected accents that really take a room from "ho-hum" to "WOW!"  If you tend towards a straight up-and-down style, I encourage you to do something unexpected in your spaces.